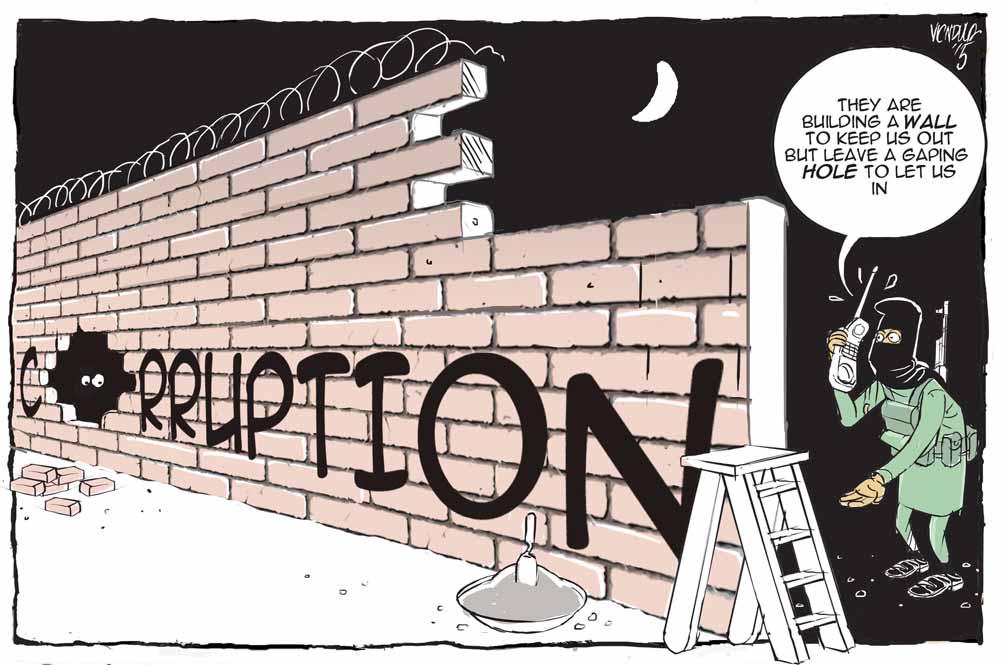 Kenya this week began building a barrier along its entire border with Somalia, in a purported effort to prevent incursions by fighters from al-Shabab, an insurgency based mainly in Somalia which has carried out numerous attacks in Kenya, including the 2 April shooting of 147 students in the Kenyan town of Garissa.
This massive project has generated heated debate. IRIN has gathered a range of views.
Deputy President William Ruto said the fence would stretch 700 kilometres. ''Whatever it is going to cost us and whatever it will take, we are going to make sure that our country is safe," he added in a televised speech.
Interior Ministry Spokesman Mwenda Njoka told IRIN that the barrier would be built by the National Youth Service under the supervision of the army.
He also said:
"The wall is basically meant to limit illegal crossing and monitor movement of people. People with legal documents will be allowed to cross as security agents capture their data. We want to know specifics of people, why they are moving from country to country and what their intentions are.
"It will involve a combination of putting up obstacles and digging trenches, especially in areas which are not navigable, to prevent people from crossing into and from the country. There will be CCTV cameras powered by solar and a control centre manned by border patrol units, where information on possible threats will be received, tabulated and action taken in real time. Some areas will have electric fences.
"There will be designated points for people to legally use while entering or leaving the country.
''Government security agents believe al-Shabab combatants do not live in the country [Kenya], but rely on Kenyan recruits to do logistics for them."
George Morara, Vice Chairman of the Kenya National Commission on Human Rights, said constructing the barrier was an "exercise in futility."
He added:
"It is a monumental waste of tax-payers' money. Where similar walls have been built or exist to keep out the so-called 'undesirables', they have not been successful. Case in point, Israel's wall to keep out the Palestinians has not stopped the attacks against Israel. They have only led to more creative ways of circumventing the barrier, through for example, the building of underground tunnels by Palestinians as conduits of attack against Israelis. Also, the mighty American wall on the US-Mexico border has not stopped Mexicans who are determined to get to the US from scaling the seemingly impregnable wall.
"The building of the wall presupposes that al-Shabab is exclusively made up of 'external enemies' who are hell-bent on attacking Kenyans. The recent terror attack [in Garissa] only served to confirm what has always remained a known fact in the country: that the militant group is actively recruiting young and disenchanted Kenyans into its radical and extremist views.
"What we need to do as country is … create opportunities for gainful employment for the youth and… do all we can to eliminate corruption within our security agencies as this remains a big contributor to Kenya's vulnerability to terrorist attacks."

Abdirashid Hashi, Executive Director of the Heritage Institute for Policy Studies, a Mogadishu-based think tank, said he understood Kenya's "urge to do something, anything about the [al-Shabab] menace."
He added:
"However, what Kenya needs is to pause and devise a long-term strategic plan to cope, deal and mitigate this clear and present danger - which is a decade old now and might take another decade to eradicate. Both Kenya's initial decision to send troops to Somalia and its current policies such as closing remittances or announcing mass deportation of legal refugees, or branding the loudest anti al-Shabab Islamic scholars , comes across as reactionary decisions made by panicky politicians.
"Kenya's best bet to overcome the serious threats posed by al Shabab lies with its ability to harness the ingenuity of its Somali and Muslim citizens and making them lead the battle against al Shabab and working closely with Somalia -- the source and the main theatre of the menace. Unfortunately Kenya now seems to have bypassed such a path and is engaged in sabre-rattling, refugee-chasing and lashing out at potential partners in its struggle to defeat al-Shabab."
David Anderson, Professor of African History at the University of Warwick, described the barrier as "a crazy idea."
"Are we going to keep al-Shabab in [Kenya], or are we going to keep them out? The problem, at this stage is inside Kenya.
"The wall I assume, is more intended with dealing with refugees, but it's a ridiculous idea."
IRIN also spoke to a number of Somali refugees and ethnic Somali Kenyans:
Abdi Ahmed, Somali refugee from Baled Hawa
"I don't think this wall will change the situation, it will only create division among neighbouring Somalis. Some of my family live in Baled Hawa [in Somalia] and their main trading partner was on the other side, in [the Kenyan town of] Mandera. They will suffer financially and end up refugees like me."
Dubad Mohamed, Somali refugee from from Kismaayo
"If the main reason why Kenya is building the wall alongside the border is security, then let it go on; we the refugees need peace, we suffered as Kenyans are suffering."
Malyuun Koriyow, resident of Nairobi's Eastleigh district
"I think the wall is a waste of money and resources. The government should invest in police and their equipment rather than a wall which will cost tax-payers huge sums of money."
Mohamed Ahmed Farah, Eastleigh resident
"I think this wall Kenya wants to build is like that wall of Israel and Palestine: it is an apartheid wall. Kenya has the right to protect its citizens, but not [with] this wall. It is dividing ethnic Somalis.
"Al-Shabab is everywhere. Kenya should invest in intelligence and cooperating with the locals if it wants to defeat al-Shabab"
from here